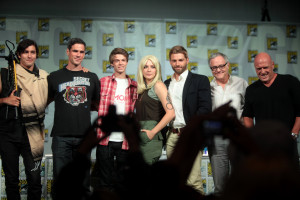 Under the Dome is a TV Sci-Fi Drama, which can be watched on a Monday night at 10pm on Channel 5. Each episode brings new situations and challenges to be dealt with. Under the dome is based in a small town called Chester's Mill. Its residents have suddenly become trapped under a clear, see-through, invisible, mysterious dome. Nothing and no one can get in or out. This causes panic to escalate amongst those who are now trapped under the dome. As fear spreads due to the lack of supplies such as food and water, the town's inhabitants become desperate and begin to act out of character. The main characters in the show bring to light different scenarios and unique story lines.
There are many twists and turns along the way increasing the excitement of the show. The characters grow to learn more about each other, learn more about their town and most importantly they start to learn more about the mysterious dome in which they have been trapped. The show combines crime, drama, romance, action and violence. This is precisely what makes it so interesting. It is a show well worth watching which really captivates the viewer's attention. Each episode is one hour long, including adverts. Season one contains eleven episodes and once you have watched them, you can start watching the new season, which is now showing on TV.
After watching the first three introductory episodes you begin to get a real feel for the show and will become easily addicted to it. Under the Dome season 2 is now showing on channel 5 on Monday evenings at 10pm. You can catch up by watching the first season online on Amazon.
Tags: action Amazon channel 5 crime Drama episode Must Watch!! Season 2 Stephen King TV UK Under The Dome