Being a sucker for anything remotely involved with the American Mid-West, my ears pricked when I heard about a new film directed by Tommy Lee Jones. The narrative is derived from the book of the same name by author Glendon Swarthout.  I managed to mosey on over to an advanced screening and saddled up for adventure.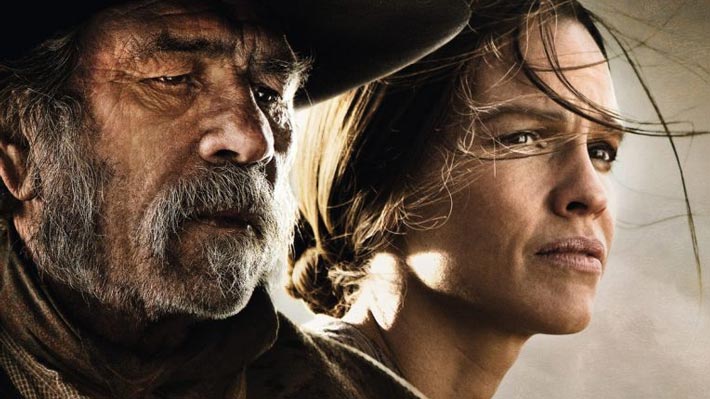 The plot revolves around Mary Bee Cuddy (Hilary Swank), who is a single, middle-aged woman living in a small desert town in Nebraska. In one early scene she entices a friend with dinner and music, eventually asking for his hand in marriage. He rejects her on the grounds of her boring life and plain looks. I feel that the rarity of being single in her small community weighs on her mind, forcing her to irrationally find a suitor. Perhaps Jones is trying to comment on how we have changed as a society to be more accepting of people who do not marry.
In any case, Cuddy doesn't stay home for too long, as she takes it upon herself to transport three women who show signs of insanity to a church in Iowa. Cuddy's character is projected as strong and masculine, as she possesses the will and determination to make this extensive journey. She is braver than any man in the town and this could be why she has thus far failed to find a partner in her life, despite her owning sizeable land and having significant wealth.
Before she sets out, she meets George Briggs (Tommy Lee Jones), a claim jumper who has been left to hang by a band of vigilante's after he uses another man's land. Cuddy frees Briggs under the condition that he helps in escorting the three women. Briggs is begging for his life when he first meets Cuddy, but as the trip escalates from bad to worse, it is clear that he is mentally stronger than his counterpart. There are many more twists, turns and splashes of dark comedy that I will leave for you to discover.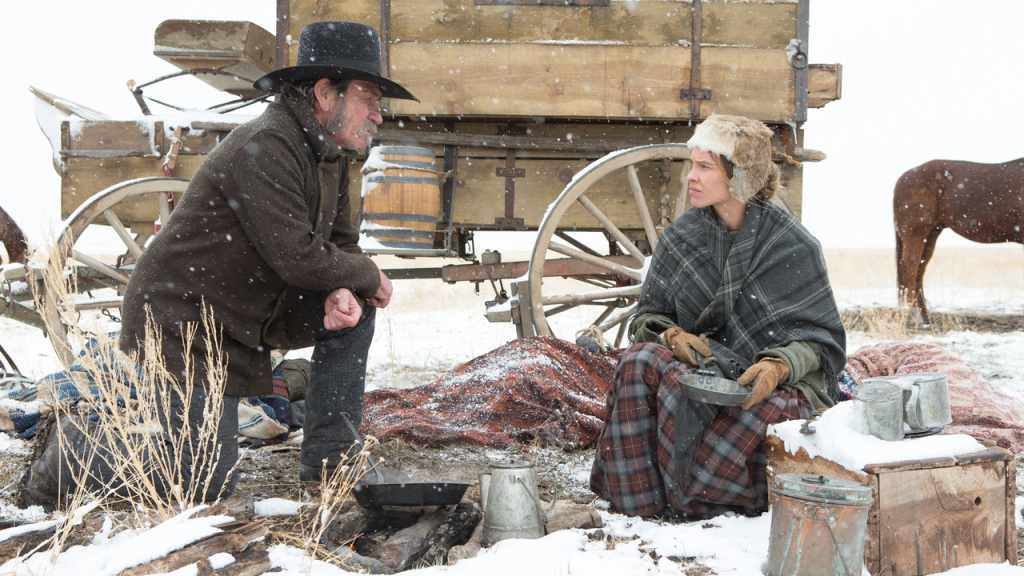 This picture has a lot to say about the differences between men and women, our ideas of sanity, love, loss and courage. With a production team that includes Luc Besson (Leon, The Fifth Element), it's not surprising that there is a good deal of internal conflict on display from the two main characters. Briggs is a man living with regrets from a past life as an outlaw, whilst Cuddy feels isolated and detached from the people she has met in her life.
There are some iconic shots and masterful framing throughout the film, including a marvellously eerie blue hotel and fast sweeping river that threatens to wash away those who pass through it. For me, this was a different version of the "West" as seen in films such as Cold in July or No Country For Old Men. I enjoyed watching the pair battle against the harsh elemental weather, searching for a sense of purpose in very different ways. All in all, a solid "modern Western", continuing the trend of intense, reflective characters, an idea that differs wildly from the brash heroes of the Western's golden age.
Barney Soanes.
Tags: film reviews films