So after much speculation and bookies' odds fluctuating more than my average weight around Christmas, Liverpool have finally decided to appoint Brendan Rodgers as their new manager. The immediate response from the Liverpool faithful when the news first came in was that of trepidation followed by, in most cases, an immediate backing.
Of course, in football you are never going to please everybody. You only have to look at the various forums and blogs across the Internet to see that the new manager still has some way to go to convince every single one of those millions of ardent Liverpool fans of his credentials.
In Brendan Rodgers Liverpool fans have a man who will work tirelessly to turn the club around and earn the respect of those who pay their hard-earned money to support the team that they idolise. His philosophy of "tiki taka" or "pass and move" possession football is precisely what the club has been missing in recent years. Anybody with an ounce of common sense will know that this isn't something that is going to happen overnight. It's going to take a lot of hard work and, more importantly, time. However, this shouldn't be too much of a problem as Liverpool are generally not the sort of club to fire a manager after one poor season (not including the last 4 years). You only have to look into their managerial history to see that Brendan Rodgers is merely their 21st manager in 120 years.
So let's outline a brief history of Rodgers' journey to L4. As a player, his footballing career is virtually non-existent. Having made only 12 appearances in 3 seasons for Ballymena United he was signed by Reading at the age of 18, though he featured primarily in their reserve team. Brendan was forced to retire aged just 20 because of a genetic knee condition.
Whilst most people in this position may have disappeared into the thick fog of footballers that never were, this major setback proved to be the starting block for an illustrious career in the making. Having had his playing career cut so drastically short, Rodgers decided to continue to study the game from the sidelines and within two years of taking his coaching qualifications, was back at Reading as their youth manager. Whilst at Reading, he would make regular trips out to Spain and study how teams like Barcelona, Seville and Valencia plied their trade. Gaining this knowledge, together with his fondness of Dutch football passed on by his father, Rodgers was eventually recommended to then Chelsea manager Jose Mourinho and was soon managing their youth setup.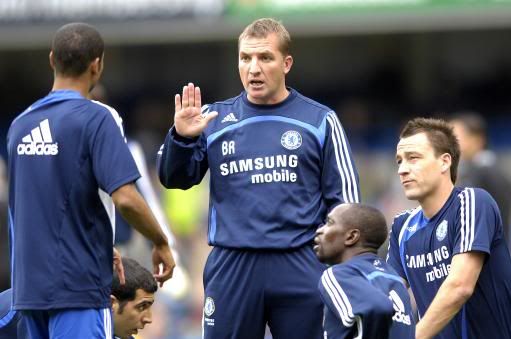 In 2008 Brendan was appointed the manager of Watford. They got off to a less than impressive start winning only two games in their first ten, though their form did start to drastically improve and they finished in 13th position. This upturn in form along with Steve Coppell handing in his resignation at Reading in 2009 led to Rodgers being somewhat controversially appointed as the Reading manager. Unfortunately, after only 6 months in charge he left by mutual consent.
After 7 months out of the game, Rodgers accepted the opportunity to become the manager of Swansea. In his first season in charge of the Swans, Brendan took them to the Championship play-offs where they met his old club Reading in the final. Swansea ran out as convincing 4-2 winners and made history by becoming the first Welsh team to gain promotion to the Premier League.
In their first season in the Premier League, Rodgers guided Swansea to an impressive 11th place with historic wins over Arsenal, Manchester City and Liverpool along the way. His unique brand of continental-style attacking football was a revelation in the Premier League and the unfaltering guile of the players under his management was refreshing for every football fan to see.
On the 1st June 2012, Liverpool announced that Brendan had agreed to sign for them on a 3 year contract. Some of the fans' comments on the Liverpool website following his appointment included: "A welcoming change and a much needed one too.. At least there will be a never say die at[tit]ude in the club !!!", "now we'll play like Barca!..YNWA!" and "Go get 'em, Rodgers! Admired the way you got Swansea to play last season. YNWA".
So a new era is dawning over at Liverpool FC. A manager with the world at his feet. If he exceeds expectations then he'll rise to the Godlike status of Robbie Fowler. Fail and he'll want the ground to split in two and swallow him up. However, one thing will always remain a certainty: Brendan Rodgers will never walk alone.
Tags: brendan rodgers brendan rodgers football brendan rodgers liverpool football liverpool FC liverpool football moon project MoonProject new manager liverpool sport