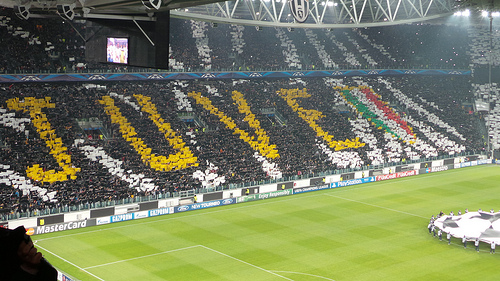 by  forzaq8 
After securing their fourth successive Serie A title last season, Juventus have struggled to inspire confidence in the opening stages of the 2015-16 campaign. Eight matches into the season, Juve are languishing in the bottom half of the table having lost three and won just two of their fixtures so far.
Massimiliano Allegri's men have lost belief in the league but are top of their tricky Champions League group – a bizarre statistic that has Juventus fans split. Many believe that the Serie A champions should focus on defending their league crown while others believe that they could reach the final of Europe's elite club competition for the second straight year.
Juventus are certainly struggling to adapt without the likes of Arturo Vidal and Andrea Pirlo, there's no doubt about that. However, they also lost Carlos Tevez and Angelo Ogbonna in the summer transfer window and the Old Lady are a completely different outfit without these huge personalities in the squad.
They are already nine points behind leaders Fiorentina and Allegri's men must act quickly if they are to turn the tide in Serie A. Inter Milan, Roma and Napoli are hot on the heels of Fiorentina and they will be keen to push on and pick up as many points as possible before Juve respond to their disappointing start.
Out of the major Italian clubs, Juventus have the most power, precision and talent. Even after losing their star men in the summer, they still have the likes of Paul Pogba and Alvaro Morata, while Claudio Marchisio is still as important as ever. These players are just a few of the talented stars in their ranks but all are underperforming so far this season.
Juve are still valued at 10/3 at the time of writing in Bet365's Serie A betting markets and they have the players to turn things around. Gianluigi Buffon is getting older but his experience could prove vital as the business end of the season approaches. In a new dressing room, his advice and wisdom could be the key to getting the most out of Juventus' younger players when they need a moment of inspiration.
It would be foolish to suggest that Juventus are going to walk to the Serie A title, however, they could find things relatively straightforward if their newer players gel quickly. Last season, Allegri's men dominated Italy's primary division and were even able to rest players for upcoming Champions League fixtures.
While it is unlikely that Juve will have the same luxury this season, they are certainly capable of winning the title. It's only a matter of time before they begin to click and their close rivals will be desperate to put points on the board before that happens. Inter Milan are looking exceptionally strong and will be a huge threat to Juve's title under Roberto Mancini.
Only time will tell, but the Old Lady are definitely capable of clawing back the nine-point deficit. While they may not have the calm and composed Pirlo controlling matches anymore, they are still an incredibly tough side to beat and will challenge for the title this season. It won't be easy but if anyone can do it, Juventus can.