Amoy, the Asian food company that lets the every day person cook exciting and different oriental dishes, has teamed up with Huffington Post to create a web series called "Feasts On The Street". Three teams of comedians, YouTube stars and bloggers are to test their skills across London in a series of challenges that see them going from novices to street food entrepreneurs.
The tasks include everything from choosing and budgeting the food that they cook to selling it amongst the famous London markets. The above video shows the first part of the final challenge where contestants have their stalls with their own team names and logos and must present their food to forty members of the public. Everything comes down to preparation skills, the juggling of ingredients and whether or not comedians, YouTubers and bloggers can make it in the fast-paced street food world.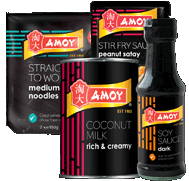 The winners of the competition will get to go on the trip of a lifetime to Hong Kong, the home of Asian food in all its different spectrums and this will be judged by Shelina Permalloo, a former Masterchef winner and expert chef.
The series aims to show that anyone, whatever their experience, can create delicious Asian food with the help of Amoy and this certainly seems to be the case with many of the novice cooks unsure of even the most simple of cooking tasks. With only the second half of the final episode left, who will win that dream trip to Hong Kong. We'll certainly be staying tuned in to find out!
Tags: amoy asian asian food Cooking Food