A Promising Start
On June 15, 2013 Hassan Rouhani was elected as President Of Iran succeeding Mahmoud Ahmadinejad presenting himself as a moderate and pragmatic politician. During his campaign preceding his electoral victory, Rouhani presented and promised a well-structured plan that included a "Civil Rights Charter". The Charter prioritised personal freedom and free access to information and consistent improvements in women's rights. This was confirmed by the appointment of Marzieh Afkham; the first female foreign ministry spokesperson in the Islamic Republic of Iran. International Relations were also touched upon by increasing Iran's diplomatic relations with other countries promising a start for the New Entry.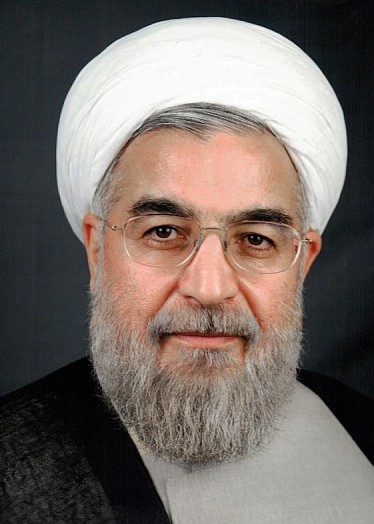 During an interview with Asia Society in New York on 26th September 2013, Iran's President Josette Sheeran addressed the status of Iran's women and his attitude toward critics of his regime. He emphasises the importance for men and women to have equal opportunities and equal rights. He underlines the fact that nowadays women in Iran are very advanced compared to the other Muslim Countries. More than half of universities' population are now women and they are actively present in medical fields and the administrative sector. Therefore, the goal of the Islamic Republic of Iran's Government is to create qualified women that will be able to bring a solid equilibrium to society. His ultimate objective is for "Women will be active everywhere".
A speech of the Iranian President Hassan Rouhani on Women's Day urges equal rights for women and criticises "those who consider women's presence in society are a threat". The Leaders stress the fact that Iran still has "a long way to go" to ensure gender equality.
At the National Forum on Women Shaping Economy and Culture, held in Tehran on 20th April 2014 Mr Rouhani says that the Government will not accept the culture of sexual discrimination. He further enhanced his statement with a reference to the Islamic rules, where man is not the stronger sex and woman weaker.
Mr Rouhani's words on women's conditions and rights are in harmony with The Chapter III on "The Right of People" in the Constitution of The Islamic Republic of Iran.
Article 19:  All people of Iran, whatever the ethnic group or tribe to which they belong, enjoy equal rights; and colour, race, language, and the like, do not bestow any privilege.
Article 20: All citizens of the country, both men and women, equally enjoy the protection of the law and enjoy all human, political, economic, social, and cultural rights, in conformity with Islamic criteria.
Article 21: The government must ensure the rights of women in all respects, in conformity with Islamic criteria, and accomplish the following goals:
1. create a favourable environment for the growth of woman's personality and the restoration of her rights, both the material and intellectual;
 2. the protection of mothers, particularly during pregnancy and childrearing, and the protection of children without guardians;
3. establishing competent courts to protect and preserve the family;
4. the provision of special insurance for widows, and aged women and women without support;
 5. the awarding of guardianship of children to worthy mothers, in order to protect the interests of the children, in the absence of a legal guardian.
Article 22: The dignity, life, property, rights, residence, and occupation of the individual are inviolate, except in cases sanctioned by law.
 Contradictions between the Islamic Republic of Iran's Codes
Despite all the Concepts and aims proclaimed by the Iranian President and confirmed by the Constitution, the evidence that reality has shown us dictates an alternative truth.
Analysing passages from the Civil code and Penal Code of the Islamic Republic of Iran, it is already clear that women rights are being violated.
Article 1041 – Marriage before the age of majority is prohibited.
Note -Marriage before puberty by the permission of the Guardian and on condition of taking into consideration the ward's interest is proper.
Article 1043 -The marriage of a girl who has not married previously is dependent on the permission of her father or her paternal grandfather even if she has reached the full age of majority. If, however, the father or the paternal grandfather withhold the permission without justifiable reason, the girl can refer to the Special Civil Court giving full particulars of the man whom she wants to marry and also the terms of the marriage and the dowry money agreed upon and notify her father or her paternal grandfather through that Court of the foregoing particulars The Court can issue a permission for marriage fifteen days after the date of notification to the guardian if no response has been received from the guardian to satisfy refusal.
Article 1075 – Marriage is called temporary when it is for a limited period of time.
Article 1145 divorces are irrevocable in the following instances
1 – A divorce performed before the occurrence of matrimonial relations
2- Divorce of a wife who is incapable of conception.
Article 300 – The blood money for the first- or second-degree murder of a Muslim woman is half of that of a murdered Muslim man.
In the last two years two more laws proposed by the Iranian Government pose a major threat to the human rights and fundamental freedoms of all women and girls in the country.
The 'Bill to Increase Fertility Rates and Prevent Population Decline (Bill 446)' passed in parliament with an overwhelming majority In August 2014 is now undergoing amendments as recommended by the Guardian Council, a body which needs to approve it before it can become law.
The Bill bans access to information about contraception, denying women the opportunity to make informed decisions about having children voluntary and outlaws sterilization which seemed to be the second most common method of modern contraception in Iran.
This situation will certainly lead to a greater number of unwanted pregnancies, forcing more women to seek illegal and unsafe abortions. Lack of access to condoms, which were previously dispensed through urban clinics and rural health houses funded by Iran's Family and Population Planning Programme, would also cause a rise in sexually transmitted infections, including HIV.
The Deputy Director for the Middle East and North Africa at Amnesty International Hassiba Hadj Sahraoui warns the Authorities
"By abolishing family planning programmes and blocking access to vital sexual and reproductive health services the authorities would be exposing women to serious health risks, and violating their human rights".
The second bill, The Comprehensive Population and Exaltation of Family Bill (Bill 315), orders all private and public entities to prioritize potential employees when hiring, in sequence based on, men with children, married men without children, and married women with children.
Bill 315 makes it so that if a woman wants to get a job she needs to be married with children. A woman would be forced to stay in an unhealthy or even abusive marriage for the sole reason of having a job.
Again the words of Hassiba Hadj Sahraoui stress the violation of women's rights:
The proposed laws will entrench discriminatory practices and set the rights of women and girls in Iran back by decades. The authorities are promoting a dangerous culture in which women are stripped of key rights and viewed as baby-making machines rather than human beings with fundamental rights to make choices about their own bodies and lives.
The above cited bills are just limited examples of many that reveal how starkly women and girls are constantly and increasingly subject to discrimination and violence in The Islamic Republic. They are treated with little or no regard for their life, health and dignity turning them into 'baby making machines?'. Moreover, the message spread by those bills outlines the image of women as obedient housewives and creatures of procreation and suggests they do not have the right to work or pursue a career until they have fulfilled that primary role and duty.
Real Events behind the 'Sweet Rhetoric'
Even though Mr Rouhani's speeches seemed to be constructive and reassuring, critics say that little has changed in domestic policy since he took office. 599 executions have been registered during Rouhani's first 14 months in power, compared with 596 during the last year of Mahmoud Ahmadinejad leadership. Iran has the highest number of executions anywhere in the world, just behind the shocking numbers of China.
On the 25th October 2014 Reyhaneh Jabbari, 26, was sentenced to death for the 2007 killing of Morteza Abdolali Sarbandi, a former employee of Iran's Ministry of Intelligence and Security. Perhaps most surprisingly, The United Nations claimed that they never received a fair trial and stated few concerns about the trial.
The U.S. State Department spokeswoman Jen Psaki condemns the execution in Iran of Reyhaneh Jabbari, convicted of killing a man she said she stabbed in self-defence during a sexual assault.
According to Amnesty International, Jabbari was convicted of murder after 'a flawed investigation and unfair trial'.
One of the last events sees an Iranian artist and activist Atena Farghadani being sentenced on the 1st of June 2015 to 12 years and 9 months in prison on charges of "gathering and colluding against national security", "insulting members of parliament through paintings", "spreading propaganda against the system", "insulting the President" and "insulting the Iranian Supreme Leader". According to Amnesty International this is a terrible injustice, and a violation of her rights to free expression and association. Once again, Hassiba Hadj Sahraoui accuses Iran's justice: 'No one should be in jail for their art or peaceful activism'.
 Challenges for the Future
 Apart from all the issues and discriminations that women had experienced in Iran through the centuries a bigger problem affects them now. As President Rouhani declares , women unemployment is one of the biggest issues of the Country, that presses on the country's development.
Effectively, according to statistics gathered in winter of 2014 and published by the Iran Census Center, currently young women in 20 provinces are facing unemployment rates above 40%.
Women in 9 provinces are unemployed above 40%, in six provinces above 50%, in 3 provinces above 60% and in 2 provinces more than 70% of young women are unemployed.
According to this report the provinces of Kohgilaviye & Boyer Ahmad and Chahar Mahal & Bakhtiary are witnessing above 70% unemployment amongst young women.
The high unemployment rates for young women in urban areas of various provinces is even higher. In the three provinces of Ilam, Chahar Mahal & Bakhtiary and also Lorestan 80% of young women in urban areas are unemployed.
Of the total number of 35,000 employees in the administrative offices of Chahar Mahal & Bakhtiary, 21,812 are men and 13,236 are women. The portion allocated for women is only 37.7% of employees in administrative offices.
Based on this consensus in urban areas of Chahar Mahal & Bakhtiary around 8% of women are employed, 3% are unemployed, 64.5% are in their homes and 23% are still in school.
6% of rural women in this province are employed, 1% are unemployed, 17% are continuing their education and 72.8% are housewives.
Finally, is more than clear that the likelihood of any positive shift in women rights is far from being easy and with immediate impact, due to the fact that the Islamic Republic of Iran is institutionalized by unfair processes in its judiciary system.
Nevertheless, the support for women's rights declared by Mr Rouhani in all the fields and his promise to set up a ministry for women instil hope on women's future.
Sara