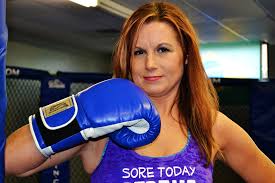 Are you in boxing or are practicing it? If your answer is yes, then you must be aware of the importance of boxing gear or equipment. Since boxers are on their hands during boxing fights or training, boxing gloves are the key item for them. They provide protection and have a number of other benefits as well. They are equally important for women as are for male boxers. For women they are specifically designed to better fit their body. Want to know about the features and benefits of a good pair of women's boxing gloves? Continue reading.
Women Boxing gloves are not particularly designed for women who are professional boxers but they can also be used by women who use punching bags or do sparring. Besides training for boxing, boxing gloves are helpful for other work outs also. They can help women make their body warm, get rid of excess fat and build their body.
Benefits of wearing gloves
If you have selected a right pair of gloves, they will provide you with many benefits. Listed below are some benefits of wearing boxing gloves during fight or training for women.
Gloves distribute the pressure on hands and therefore lower the risks of any damage or injury.
Antimicrobial layer in them helps provide protection from blisters, calluses and other skin infections.
Your hands remain safe from any injury to fingers, hands and wrists because of cushioning in the gloves.
Gloves on your hands can help you practice better with more powerful punches.
You will feel more comfortable while training with gloves on your hands.
Things to consider while choosing boxing gloves
You can benefit from boxing gloves only if you have selected right pair. Here are some features of a good pair of boxing gloves. Consider these features while buying them.
A good pair of boxing gloves is usually durable and long lasting. Good quality leather is more durable than other materials. So, choose a pair made of good quality long lasting leather.
Good pair of gloves have proper padding that provides shock absorption when you hit the uppercut boxing bag or your sparring partner. You need to protect your hands. So, go for padded gloves.
Good quality gloves provide high level of protection to wrists as well without compromising the flexibility of the wrist hinge. So, select the gloves that have wrist wraps to protect your wrists while punching hard.
If you need boxing gloves for martial arts, select the ones that are flexible.
If you need gloves for training, choose heavier gloves with thick padding.
If you need gloves to compete in the ring, buy lighter gloves.
Fitting of gloves also matters. So, choose a pair that is neither too short nor too big and perfectly fits your fingers, hands and wrists.
Gloves are basically available in two types – lace-up gloves and Velcro gloves. Go for the ones that fit you best. However, Velcro – aka hook and loop gloves – are usually preferred on other types.
In a nutshell, boxing gloves can be highly beneficial piece of equipment for you if you have selected right pair.
Also, read about the best gym management software Reviews to monitor and market your fitness center efficiently through this easy to use system software.
Tags: Boxing Gloves woman