The childhood classic is back, this time with a live action twist. Based on Rudyard Kipling's The Jungle Book, this film is a live-action/CGI retelling of Walt Disney's 1967 animated film of the same name.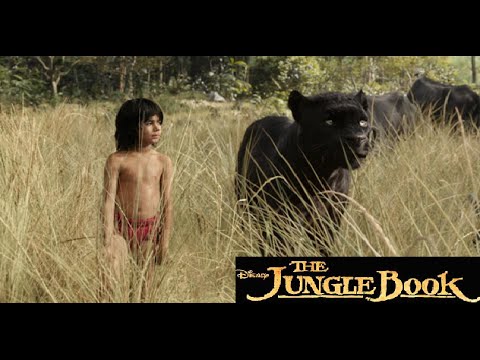 It's directed by Jon Favreau and produced by Walt Disney Pictures.  The film stars Neel Sethi as Mowgli and features the voices of Bill Murray, Ben Kingsley, Idris Elba, Lupita Nyong'o, Scarlett Johansson, Giancarlo Esposito and Christopher Walken. This is the final film to feature Garry Shandling following his death, one month prior to the film's release.
I have to say I was pretty nervous about this film. I wasn't sure how they'd be able to make it work as a live action film, but I have to say that it was thoroughly enjoyable. The CGI was stunning, you could barely tell that the animals weren't real. Neel Sethi gave an amazing performance and it was seriously shocking seeing as this is his first major motion picture and to be honest I have the up most respect for this kid. To be an actor at his age is awesome, but to give the performance he did with not actually having the 'cast' there to act with makes it even more impressive. I'm truly excited to see what's next for this boy.
The voice casting in my opinion was spot on, there wasn't one voice that seemed out of place within the movie. Favreau's decision to bring Scarlett Johansson in as the voice of Kaa was probably one of the best decisions. Her voice really lends itself to the character of the snake. However one thing I did find was that even though the voices were good, some of them seemed to be more about the actor voicing the character rather than the character themselves. For example even though Idris Elba played a good bad guy, I couldn't help but get distracted by his obvious accent and because his voice is so distinctive it detracted from the character of Shere Khan in a few places in the film.
Three of the songs from the animated film are used in this film, The Bare Necessities, which is of course sung by Murray and Sethi. I Wan'na Be like you, sung by Walken and Trust in me sung by Johansson is played during the credits. I have to admit that I almost fist bumped the air when I heard/saw the Bare Necessities scene, it is one of my all-time favourite Disney moments and for it to be recreated almost exactly the same from the animated movie just added a little more magic to this version.
To be honest I can't really fault this film. Everything is stunning, the cast, the CGI when it comes to fight scenes are incredible, the way they've created the jungle, the way the story takes the viewer on a roller-coaster of emotions, you feel joy, dread, sadness all within a short space of time. This was a truly incredible film to sit down and watch. I had a little kid sitting next to me when I saw it and to start off with the kid was restless, but as the film progressed the kid became just as enthralled with the story as I was. It's a weird moment because as a kid the animated movie was my favourite Disney film and I feel as if kids now are going to have this live action version as their favourite film.
As of writing this review The Jungle Book is doing so well in cinemas that there are already talks about a sequel. Could we see the animated version of the sequel come to life just as we've seen this one? It's certainly going to be interesting to see where the studio takes us next.
Tags: Bill Murray Disney Jungle Book Neel Sethi Rudyard Kipling Walt Disney Pictures