Under UK tax laws, people who have to travel to temporary workplaces as part of their jobs can apply for a tax refund on their travel expenses. Of course, this assumes that your employer isn't paying for those travel expenses or reimbursing you after the fact. If you aren't being reimbursed and you're not claiming tax refunds, you might be missing out to the tune of thousands.
A great way of demonstrating just how much money can be returned to you by claiming a tax refund for your travel expenses is to look at The Grand Tour, the hit Amazon Original series in which Jeremy Clarkson and co travel the world in a variety of cars and vehicles. As you'd expect, the team rack up a huge number of miles in the filming of this show.
As the infographic below shows, the series saw the presenters travel 38,174 miles in total, taking in locations across the globe. We've calculated that this amount of travel would result in a tax refund of £11,543.50. This figure has been reached using the Approved Mileage Allowance Payments (AMAP) rates.
According to AMAP rates, the first 10,000 miles travelled is worth a refund of 45p per mile, which in this case results in £4,500. After that, the remaining miles travelled are worth 25p per mile. Using the travel map of The Grand Tour's presenters, that leaves 28,174 miles worth a total of £7,034.50.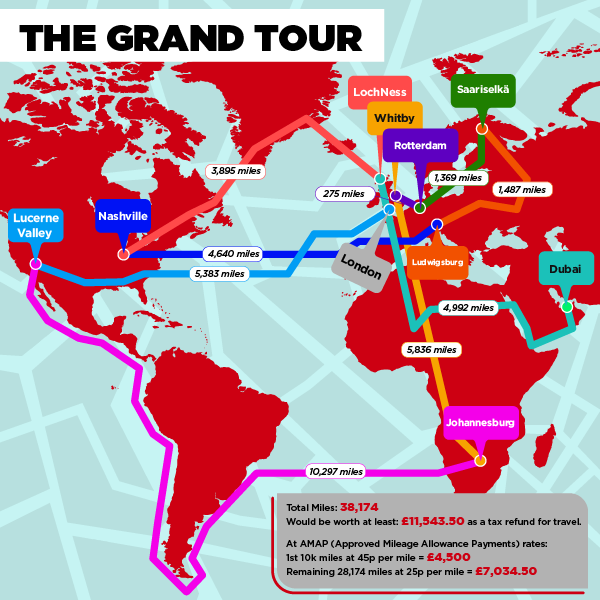 Infographic designed by: RIFT Refunds