I had been looking around for a great coffee machine for quite a while. The market is pretty saturated and I felt overwhelmed with choice. After much deliberation, I decided to go for the 'Bosch Tassimo Caddy' and I am not disappointed! The style of this coffee machine is inoffensive and sleek. It sits perfectly on my kitchen top counter and is not at all a bulky eye-sore like some other machines I have seen. The machine also has a coffee pod holder that clips on to the side which neatly stacks my pods so that they are within easy reach to make a quick coffee. The instructions were very simple and as such I set the machine up easily without any hassle. There are basic instructions which guide you in cleaning the machine also and the tank removes effortlessly.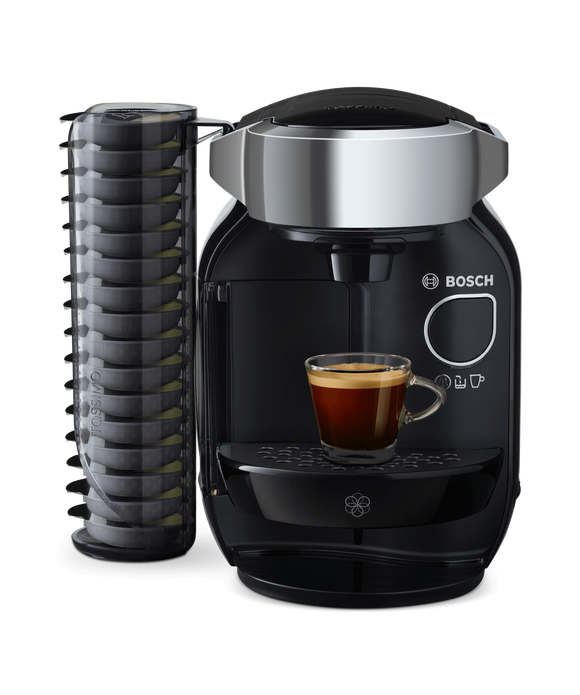 Now for the coffee! The Tassimo pods come in a range of flavours and varieties including those with and without milk. Depending on your mood you can make an espresso, cappuccino, latte or hot chocolate plus even more. I have tried some homemade coffees before (made with a machine) that taste like plastic, this was something I absolutely had to avoid and I was not let down. The coffee tastes delicious, I even held a dinner party the other night and all of my guests were extremely pleased with their smooth cuppas to end the night! Find your perfect coffee machine at CorpCofe.com.
I highly recommend this Tassimo machine to anyone looking for an attractive, mid price range, convenient, and easy-to-use coffee machine. It's a must have for the kitchen and is a hit with coffee lovers!