Note: I was sorting through my computer while snowbound this weekend and found a few of these great interviews that I just never got around to editing and publishing. So here they are after some quick editing.
If you've ever been to Las Vegas, you know what evils that wonderful city can hold. I used to tell friends that no matter what your vice, you can find it in spades in Vegas. You like to gamble? That's easy, from the time you step off the airplane you can find anything from the nickel slots to the $1000 machines at the Bellagio waiting to have their lonely little handles pulled. Don't know where to get that $200 Cohiba you read about in Cigar Aficionado? Just ask the right concierge and he'll even cut it and light it for you. Looking for a companion to help you unwind after the big fights? Well, even that is only a phone call and a cab ride away in Las Vegas. I've seen Las Vegas be as laid back and as cool as Fonzie on the beach; or as angry and as nasty as Phil Helmuth after getting gutted by an ace-deuce while he was holding a pair of queens during the World Series of Poker. So when I was able to catch up with Las Vegas resident Gray Maynard I was curious about how difficult it is training in a place like Vegas. I was curious about how it was learning from Randy Couture and the rest of the Xtreme Couture gym. I was interested in learning about Gray Maynard and hearing what he had to say. You might remember Gray Maynard (4-0-1) from his days as a three-time all American at Michigan State University, or as a contestant on The Ultimate Fighter, or you might remember him from his days as a real estate agent. However you remember Gray Maynard, he's not one to easily be forgotten. After getting some time zone issues worked out, I was able to catch up with Gray before his upcoming bout with Dennis Siver (11-4-0) on January 23 at UFC Fight Night 12 at The Palms in Las Vegas, and when it was all over I was thankful for Gray being the inaugural Interview for Rival Fights so I could catch up with him for this interview.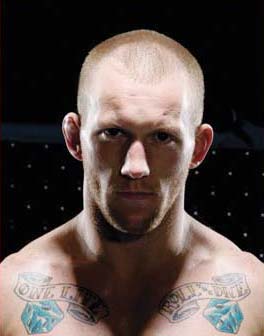 Marc Sierra Rival Fights: How's Vegas?
Gray Maynard: Vegas is good, a little cold right now. (Laughs)
MSRF: Do you find it hard training out there?
GM: No, not at all, not at all. It's easy. It's a good group of guys and we pretty much, just, man, that's all we do is just kind of train hard, ya know>
MS: I'm from Illinois, I heard you say it was cold out there, I beg to differ! If bet if you were sitting here, buddy!
GM: (Laughs) Yeah, I was in Cleveland for two years and I was in Michigan for school too, so I know about cold. I don't like it.
MSRF: Everyone's got their own unique story about their introduction to the world of MMA and for those who don't know, before you joined TUF 5 cast you were a standout wrestler in Ohio, you attended Michigan State with Rashad Evans where you were also a 3-time All-American there too?
GM: Yeah
MSRF: You were eventually asked to fly to Hawaii to train with BJ Penn. Aside from a free trip to Hawaii, what were you expecting to learn from that trip, and did you accomplish what it was you were seeking out?
GM: Uh, you know what? I was actually toying around with Jiu Jitsu a little bit and I was actually going to Cobra Kai, and Troy (Mandalonez from The Ultimate Fighter 5) he was on the TV show…that just got done. He actually called BJ and he told him about me and I think BJ was getting ready for Rodrigo Gracie, so he flew me out. I really didn't know who he was. I didn't really keep up with it too much. I think this was in like 2005, so it was a while back. I really didn't know what to uh (expect), I was like; well it's a trip, so whatever. I got out there and that was the first time I kinda put on gloves, and stuff like that and I got beat up. I mean, he's good. I actually thought I was gonna go out there and take him down and like, "Oh yeah, kinda (do) this and that" but he already knew. I was kinda like, 'what the hell do you have me for, man, you're already good!' So, anyway, it was kind of like, it was great, man, this is a cool sport! So I came home, again, I kind of had a job and everything. I just kept toying around with Jiu Jitsu and I ended up getting together with Couture who was training for Chuck, the third one and he had a small camp. It was about eight guys He had Pyle (Mike), Hieron (Jay), Forrest (Griffin), he had Alex Schoenauer, and a couple of other guys. So I ended up kind of jumpin' in there. It was a little over two years ago and it just clicked. I was like, wow, 'this is the sport I wanna do'.
MSRF: Now, with your wrestling background, what was the hardest part for you to make that transition between wrestling and mixed-martial arts?
GM: A lot of people would say striking, but that kind of came easier. I was like, 'Wow, this is the greatest! This is what I want to do!'
MSRF: A lot of those times wrestling around you probably wanted to hit somebody anyway, right?
GM: Oh, yeah, all the time, all the time. That was kind of like, a lot easier. In Jiu Jitsu, if you get into bad spots; you kind of have to change your plan to like, alright, you can't give up your back, and all kinds of stuff and so that was kind of the toughest part, you know, kind of breaking (old habits). It's like, oh man; I've been doing it (this way) for a long time and now it's time to (change). There's a lot of stuff, you know, you kind of have to change up. Jiu Jitsu, that was a little tougher, but it's all coming along.
MSRF: Excellent. I read where your father also lettered in wrestling at Arizona State, what do they (parents) think of your recent career choice?
GM: At first they were like, 'What do you want to do that for?' Now, they can kind of tell, ok, it's a sport and, man they love it!
MSRF: Do you think your Dad wishes this same opportunity would have been available to him?
GM: Uhm, he wrestled and stuff like that, you know, I don't know, he's a cool guy.
MSRF: Stuff like that kind of interests me so I thought I'd throw that out there!
GM: Yeah, to each his own I guess.
MSRF: You've fought twice this year, your last fight was a nine-second, one-punch KO over Joe Veres, then of course the controversial fight with Rob Emerson. Are you getting antsy for this upcoming fight with Dennis? What kinds of things do you for motivation and staying focused after only being in the ring for nine seconds your last fight?
GM: Well, actually, the last year with the TV show, I had Wayne Weems, Brandon Melendez, and my last one was against Diaz. So it was kind of packed. I had Emerson in June, and then Joe in September, so it was kind of like, a lot of training! You know, I kind of eased back a little bit after the one in September, but yeah, I'm pumped to get back in. It's gonna be fun. It was a great camp and I can't wait to get in there.
MSRF: Speaking of your camp, I'm sure you've been asked this a thousand times, so I'm going to try and disguise it as something new, but Randy Couture is one of those people who just transcend the sport, you know? In other words, people who don't know anything about the UFC or MMA have heard of Randy Couture. Why don't you describe for me a little bit not only what it's like training in a place that has a namesake like Xtreme Couture, but to also get to learn from "The Natural" himself?
GM: Of course, it's unbelievable. We got a great group, and everybody just works hard. They get in there and we beat the hell out of each other! You know, Couture, he isn't the type of guy who's just like, "CHANGE THIS! ****** CHANGE THIS! CHANGE THAT! BLAH BLAH BLAH BLAH BLAH!!" You know, but he'll talk, like, once. "Ok, you're going to have to change up this" and it's golden, and you do it and it's like, ok, it's done.
MSRF: So he trims a lot of the fat for you in the learning curve?
GM: Yeah, he doesn't talk a lot, but if he does, man, listen up and soak it in because he knows what he's talking about! It's unbelievable.
MSRF: Ok, so using your standard NCAA rules, and taking into account the weight difference, who wins in a traditional wrestling match between you two?
GM: We've wrestled a couple of times. I mean, man, he gets a hold of you, oh, man, he's got some Greco, he's got some good, you know, I try and keep away! (Laughs) I try to keep away! "Keep away, keep away, SHOOT! I ain't kiddin'! Keep away, keep shoot! (Laughs)
MSRF: Just don't get pinned!
GM: Exactly!
MSRF: This sport continues to grow at such a rapid pace. What kinds of things are you looking forward to seeing happening in the future with your sport, and what kinds of things are you looking to make happen for yourself?
GM: I want people to, there's still a lot of people out there who are like, "Man, I can't believe this is a sport, it's stupid…" I want people to know what we do to train, you know. A lot of people put in a lot of time, a lot of heart, and it's a great sport! I think it's a sport, that…I mean, it's raw. It's two guys, go in there. I pretty much don't watch basketball; I don't watch anything but (mma). It's like; I don't care. It's a great sport, and it'll just grow. It'll be cool.
MSRF: Speaking of, you say you're a big fan as well, what did you think the best fight of 2007 was?
GM: The best fight of 2007? Mmmm, Eichen, he had some great ones. I know, I'm kind of going with the team here, but Couture, man, Couture he had some smart ones.
MSRF: It always interest me what the people who are actually in the industry, as fans ,and watching the fights, you see people at ringside and you know deep down they gotta to think, "Damn, that was a kick ass fight"! As a fan, I thought that Chuck's (Liddell) last fight was a bad ass fight!
GM: I haven't even seen that one yet! I was tired, and I was like, I'll check it out probably, but I haven't even checked it out yet! I can't wait to watch that. I know the UFC had the top ten, and I didn't agree with a couple of them.
MSRF: That's another thing. The Internet fascinates me. There's so many…websites you could find out information immediately. I remember the days when if you didn't get the PPV, you couldn't find the results of a fight for three or four days until you got a VHS copy! The way the internet has grown, what's your opinion on the way the web and the internet has helped or even hindered the sport?
GM: It's helped, of course. It gets it out there. Of course, opinions are everywhere. Everyone's got an opinion. Me, I try and not to get on to that…but you got to have a place where people can, I guess, just kind of talk, you know? There are people who get just so pissed off about all of that stuff. (Imitating someone) 'This website had me up over here!' I'm like, dude, don't even pay attention to it!
MSRF: That's what I was wonderin'. Do you find yourself reading about what the world is saying about you, or do you just try and avoid it all together?
GM: About me? No, about (so and so) there's so much stuff, it's like, and 'I didn't know this about him or this guy'. It's funny. If it's about (me), then I try and keep it to where it's like, 'Oh, it's about me, I don't want to see it'.
MSRF: rivalfights.com is in the business of fantasy sports…By actually creating a fantasy sports game, I think you're well on your way to achieving that legitimacy you were talking about (earlier)…and we're going to do our best to put out the best information on things that the fighters want us to know.
GM: That's awesome, man, I appreciate that.
MSRF: One of the big perks about being in this business is that we get to ask you guys the questions we want. One question we love hearing the answer to is if you could hold one fight that doesn't include yourself, in any venue in the world, what would that match-up be and where would you hold it?
GM: Right now, I'd probably go with Fedor and Couture and I'd hold it right here in town. (Las Vegas)
MSRF: Would you hold it closed-circuit in the gym like Rocky III?
GM: (Laughs) Oh man, I don't know. People love this town. This is the best place because people come here and they enjoy it. We were actually in a couple in Ohio, and pretty much everything is closed at like twelve! The other (fight) I would go with would be Uriah (Faber) and Kidd, and I'd put that one in Japan. He's huge, and it would be a big crowd and it would cool, man, because man, those guys are good. Then of course, Dan (Henderson), and Anderson (Silva) which is gonna be in I think April?
MSRF: March, in Ohio.
GM: That's gonna be unbelievable. I pumped to see that. Dan's gotta steel chin, bro…it'll be a test for sure.
Tags: Fight Gamble Gray Maynard Las Vegas Martial Arts MMA