As a man with limited hill walking experience and a propensity to sit in the firing line of the pleasant sunshine, I was at best ambivalent about my wife's idea of a summer holiday. Circumnavigating around the Mont Blanc range wasn't top of my 'self-preservation agenda' for our summer holidays. "It's an opportunity for us to raise money for charity. You know – do something for others for a change. Think how fit we'll look and feel by the end of it. Plus it's something we can do only when we're young. It could be our only chance. You said you were up for a challenge this summer, didn't you?"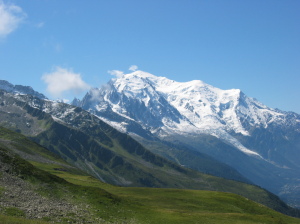 "Did I?" I thought. My facial expression spoke volumes. So an ordnance survey was duly unfolded until it stretched across the majority of our living room carpet. Tiptoeing away, I pretended not to notice this happening. But I was yanked back on my leash and duly beckoned over. Then without so much as a moment's hesitation, Katie pointed directly towards the Mont Blanc range on the map and began her sales pitch. I was impressed with her level of knowledge even at this early planning stage.
"Look," she began. "Day 1 is only 6 centimetres long on this map. Easy." Suspicion instantly set in. How far exactly would '6 centimetres' be – particularly in Mont Blanc terms? Quite far, I suspected. So I came to my senses and conducted my own investigation.
And I was pleasantly surprised by the outcome. It would appear that good camping facilities, 'les chocolats chauds' and hearty meals present themselves at regular intervals along the route. A daily shower might even be on the cards. I soon realised that we were not going to be trudging through deep snow, sleeping in blizzard conditions at 4500 metres above sea level, or waking up with icicles in my beard and frostbite on my toes. Luxury can be taken to a new level – the private rooms in cosy mountain refuges sounded promising.
Usually wrapped up in my self-absorbed world that revolves around work, family and friends, I was beginning to see that the ever intuitive Katie had unfolded a worthwhile challenge right in front of my eyes.
We ploughed our way through the inevitable (but smooth) process of refuge and campsite bookings, and began to delve into the abyss of trekking equipment. We knew more about Quantum Astrophysics than we did about trekking. But it really didn't take long to get up to speed. Within a matter of days, with our equipment in check, just a series of toll roads (nestled comfortably into 800 miles of driving) was all that stood in the way.
Under starter's orders. Be prepared to cook the tollbooths some regular meals. We fed them with Euro notes. I hear it's their favourite. But while the journey costs you in both petrol and toll meals, the endless views across varied landscapes dominated by cultivable farmland make it all worthwhile. I recommend you collapse in a heap (as we did) at one of the delightful French municipal campsites on the way. They're dotted in sporadic but convenient locations along the main route. Our good value site even had a Mediterranean style bar and a pool.
And so after 12 hours of driving, split into 2 days, the eagle finally landed in Les Houches for liquid refreshment and pizza. We enjoyed a solid night's sleep in this lovely small town. The odds certainly weighed in our favour.
Get set. We took our first steps, bouncing along the main road with a youthful spring in our steps. But a teething problem was hibernating just around the corner. An undersized, overfilled rucksack that jars into your lower back can also quickly jar both on your nerves and pain threshold. So, ensconced in the land of exclusive ski resorts, we shelled out for a highly superior 60 litre carrier – the sort that fulfils the fantasies of any daydreaming trekker. Our enthusiasm renewed, we bit the dust and scooted off into the distance.
And they're off! After an initial vertical incline of 600 metres, we began to enter traditional French alpine villages such as La Gruvaz, La Villette and Le Champel. Brand new abodes were sprouting up everywhere. They're like pretty little pictures – from a distance they look similar, but close up, through the reliable binoculars of my 20:20 vision, it is clear they all sing from different hymn sheets. Each one is a work of time, passion and meticulous detail. You can't help but make judgements about the creator's personality. Serious chalet-envy.
We awoke the following day in the quaint village of Les Contamines to a civilised coffee and croissant with friends. However the walk today was not going to be quite so gentle. In fact, the quads were due a beating. The words 'flat' and 'downhill' actually appeared to be temporarily removed from the dictionary today. We peaked above the snowline at the top of Col de la Croix du Bonhomme (2479 metres). Although our sweaty backs suggested otherwise, we were chilly within 5 minutes of stopping.
I have newfound respect for the common mule. There they stand at the summit with a robust stance, carrying about 4 times as much as a man, unscathed and seemingly oblivious to the cold weather. I didn't hear a single complaint on the way either.
We soldiered on to the village of Les Chapieux with the promise of a fat-boys breakfast in the morning. A massive night's sleep.
But unfortunately, that greasy breakfast skidded off in the opposite direction to our mouths. "It's 9 o'clock!" Katie welcomed me into the next day. "Breakfast finished at 7:30." So my penknife and I treacherously skewered our way into yet another tin of ravioli, before hitting the rocky outcrop up to our highest point so far. Col de la Seigne rests at 2512 metres. Fantastic views broke out as the clouds momentarily drew their curtains. But as we stepped over the border into Italy, the storm clouds began working behind the scenes. They were brewing up the perfect cuppa.
That night, the clouds didn't just make one mug. They had a full on tea party. It was, however, quite atmospheric when our tent became entirely illuminated by a force of nature. Despite a miscalculated peg allocation, we managed to pray our way through the night without springing a leak.
The party eventually ran out of steam and we awoke to a dry morning. We took full advantage of this, and hit the road early to churn through some miles. Today we reached the dizzy heights of 2420 metres before descending back down onto the main piste. I was disappointed not to have bulging quadriceps by the end of this day. I certainly deserved it. Katie had to be brushed down like a moulting dog. She had sat unknowingly for a rest in an ants' nest. She was yelping, bleating and hopping around like a puppy – covered in a tasty blend of ants and sweat.
Moral dilemma: would it be cheating if we took the cable car down to the village? After much discussion, the consensus was yes. So we motored on down, motivated by the shower and pizza that awaited our arrival. Morale was high today – tonight was our one hotel night in the agreeable town of Cormayeur.
The next morning we woke feeling refreshed. Walking conditions were perfect, we had one of the steepest climbs on the tour under our belts and better still, we were about to experience the delights of a refuge for the first time. Now just a stone's throw from the glacier, we experienced postcard views today. The waterfalls and streams resonated with some kind of unreachable mystery. An array of colourful wild flowers beamed and waved at us as we walked by. We smiled back, plodding on to the tune of nature's harmonious call. We had no need for conversation.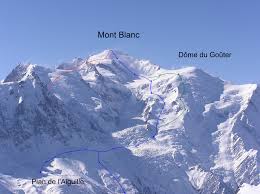 "Dinner is at 7," we were told on arrival by our Italian refuge host. The dining room tables were arranged a bit like a school canteen. It was fully booked.
We met some incredibly interesting people in this refuge. The social scene alone made it worthwhile. Janet was a well-travelled lady who had visited every state in the USA. Another young couple came on honeymoon from San Francisco. The cackle of 3 Irish ladies on a nearby table ignited an evening of jovialities and banter. We also found a healthy common interest with two young Polish men – beer. Nationalities congregated and interacted in a way you would expect at a well-heeled dinner party. Wine was inexpensive yet good quality, and the food was scrumptious.
Feeding time in the zoo indeed came at 7pm. I'm a man with a deceptively large appetite, particularly after 10 miles of walking. The show was on time and both seals went to bed feeling satisfied.
The next day, the Italy Switzerland border was crossed at 2537 metres (Grand Col Ferret) after a steep climb. We needed the windscreen wipers for this leg of the journey. We checked in at our campsite looking like drowned rats. But spirits remained high –the charming Swiss alpine village of La Fouly (that served beer) awaited our arrival. Cheers!
On our hit list was now the chocolate box resort of Champex (home of the toadstool, it would seem), surrounded by a surprisingly inviting lake. We arrived in the glorious sunshine after a fairly painless walk and caught up for pizza with the lads from Poland.
Nearing the end of our amazing trek, we learnt that rain was now on the agenda for the next few days. So we decided to go for broke and combine 2 days into 1 with a solid 12 hour stint back to our starting point in France. We could no longer feel the initial drag of our backpacks. It's amazing how quickly the physical side of you acclimatises to new situations. Final stop: Chamonix.
We saw ourselves in the window of a car showroom as we entered this notoriously vivacious town. It would appear that we have been walking like a close relative of the chimpanzee for the last 9 days. So we stopped off to grunt, hunt for food and seek temporary shelter. Chamonix is well worth a visit (as long as you're as trendy as us). Friendly cows togged up with cowbells freely roam the nearby pastures. Get ready for a sniff!
We finally arrived back in Les Houches at around 8pm and reflected on our achievements. Le Tour du Mont Blanc is a unique and truly memorable trip. It is well signposted, and suitable for all ages. Some of the oldies, and youngies alike, were blisteringly quick. We didn't pick up a map once. We completed it alone with comfort, although you can join a guided group for safety and solidarity, especially if you are on your own. Mules are available to carry heavy equipment. You can even employ someone to cook for you, and transport / put up your tent at every checkpoint. An unforgettable excursion.
One to add to your to-do list.
Tags: Alps camping Charity France friends Geneva hill-walking map Mont Blanc refuge summer Travel trek trekking villages