Are you looking to create the ideal feature wall in your home? A feature wall, also known as an accent wall, is an interior wall that stands out from the rest of the room by design. A feature wall is a great way to add depth to your room or highlight certain areas of the space.
The following list highlights several different types of feature walls that you can create in your home on a budget.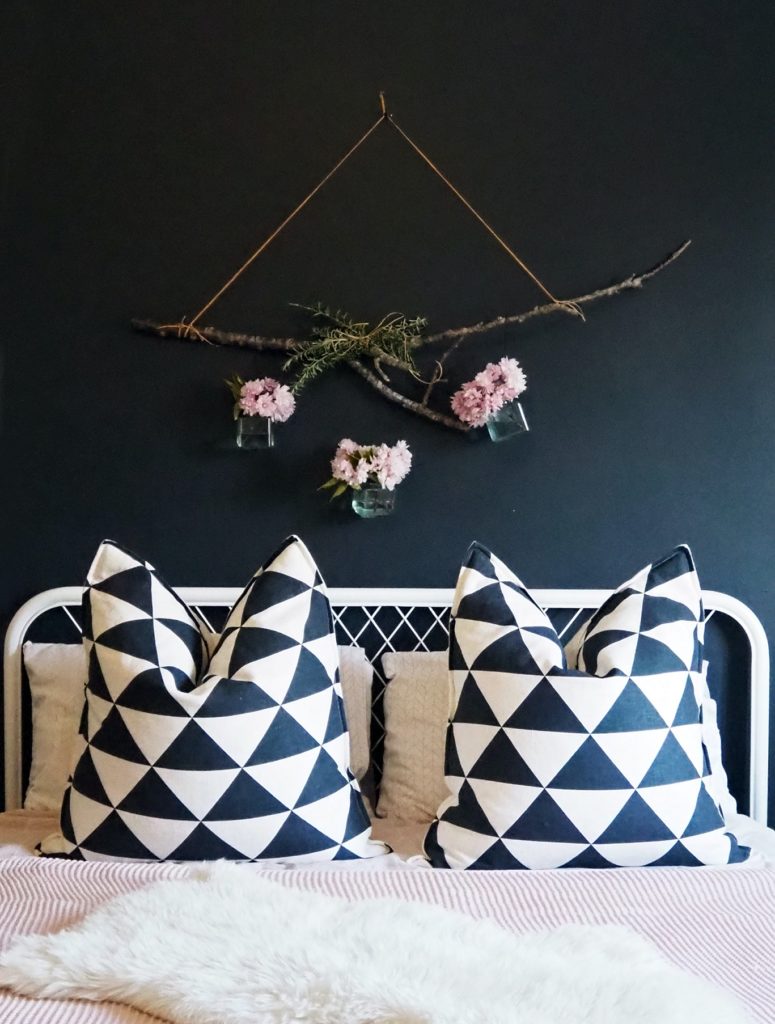 What is a Dynamic Wall Feature? 
A dynamic wall feature is a design element that serves as a conversation starter for the people who visit the room.
Examples of a dynamic wall feature include:
A multimedia display.
A grid full of pictures or artwork.
A concept map of important places in your life or on your bucket list.
Overall, you need to create an eye-catching dynamic wall feature that helps to give a sense of purpose and direction to the room.
Gallery wall art
A popular way to create a dynamic wall feature on a budget is by using gallery wall art. Gallery wall art is a collection of artwork or pictures hung together on one wall.
The great thing about using gallery wall art is that you can use artwork or pictures that you already have or purchase affordable prints from online retailers to create your dynamic wall feature.
Types Of Feature Walls To Consider For Your Home On A Budget:
1. Striped Wall
Add depth and texture to your room with a striped wall. This feature wall is perfect for drawing attention to a particular area in the room or setting the mood for the space. To create a striped wall, you will need painter's tape, a level, a pencil, and paint in two different colours.
2. Painted Wallpaper Effect
Create the look of wallpaper with paint and stencils. This type of feature wall is ideal for rooms that you don't want to fill with wallpaper completely.
3. Graffiti Wall
This feature wall adds a bit of edge and excitement to your room without being too overwhelming on the eyes. To create a graffiti look, use some fun stencils and spray paint.
4. Mirror Wall
This type of feature wall is perfect for making a small room feel larger or adding some glamour to a space. Mirrors can also reflect light and create an optical illusion in the room.
5. Wood Plank Wall
Add character and warmth to your room with a wood plank wall. This type of feature wall is perfect for a rustic or country-style room. You can either use reclaimed wood or purchase pre-cut planks from your local hardware store.
6. Brick Wall
Give your room a touch of industrial flair with a brick wall feature. This type of feature wall is perfect for rooms with a lot of natural light. You can either purchase brick panels from your local hardware store or use real bricks to create the look.
7. Fabric Wall
This feature wall is perfect for adding a pop of colour or print to a room. You will need some fabric, wallpaper adhesive, and a level to create a fabric wall.
8. Metallic Wall
Add a touch of glamour to your space with a metallic wall. This feature wall is perfect for rooms that need a bit of extra sparkle. You can use metallic paint, wallpaper, or even fabric to create the look.
9. Textured Wall
Create interest and depth in your room with a textured wall. This feature wall is perfect for any room in the house and can be easily painted over when you are ready to change up the space.
How to Create a Dynamic Wall Feature in Your Home
Now that you have some ideas for different types of feature walls, it's time to start creating the look in your own home. The following steps will help you create a dynamic wall feature in your space on a budget.
1. Choose the right wall.
The first step in creating a feature wall is to choose the right wall for the job. You want to pick a prominent or eye-catching wall in your space, like one with beautiful trim work. The wall should also be flat and free of objects hanging on it (e.g., pictures).
2. Remove any hardware from the wall.
Remove all hardware from it before you paint the wall, like screws, nails, and hooks. This will help create a smooth surface for the paint or wallpaper to stick to.
3. Tape off the wall.
Using painter's tape, tape off the edges of the wall where you don't want paint or wallpaper to go. This will help create clean lines and prevent any bleeding from the paint.
4. Prep and prime the wall.
Prep your wall by using a vacuum to remove any dust or debris, then use a clean rag to wipe the surface down with some water and a few drops of dish soap. Finally, let the wall dry completely before priming it with a semi-gloss latex primer.
5. Paint or wallpaper the wall.
Once the primer is dry, you can start painting or wallpapering the wall. Be sure to follow the instructions on the paint or wallpaper for proper application.
6. Add accents to the wall.
Once the paint or wallpaper has dried, you can add accents to the wall with a brush or a stencil. This will help to add interest and personality to the space.
7. Hang artwork or accessories on the wall.
Once the feature wall is finished, you can start hanging artwork or accessories on it. This will help complete the look and make the space feel more personal.
Creating a dynamic wall feature in your home on a budget is a great way to add personality and interest to any space. With a little bit of creativity and some basic DIY skills, you can create a wall feature that is perfect for your home.
The takeaway: How to create a dynamic wall feature in your home on a budget
In concussion, there are many ways that you can create a dynamic feature in your home – whether you're opting for a classic gallery wall art feature, or something a little more out there with a multimedia display! Your walls are your world to play with, and it's important that you experiment, to find the aesthetic that suits your personality.
Finding the right materials is key, so make sure you're shopping around your local homeware stores for those much needed supplies that will make cleaning and prepping your walls so much easier. Plus, just remember, you don't have to spend the earth on fancy gallery wall art for your feature wall to look absolutely class – providers like The House Outfit have stunning pieces that can be purchased even on a low budget! The same goes for wallpaper, paint and accents that you choose.
If you're going for something more like a multimedia display, then it's best to get some professional advice – however, you can scour the internet and use networking platforms or forums to find out what other like-minded people have done before you pop into your local electronics store and potentially get convinced by the sellers!