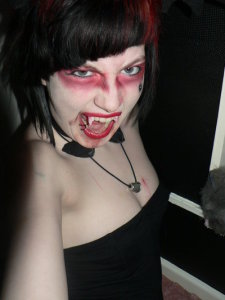 Halloween has always been one of my favourite holidays. When I was a little girl, I loved to dress up. I would plan my costume weeks in advance, with the help of my mother who despite working long hours as a nurse would take time out of her hectic schedule to hand make something original and spectacular for my brother and I. In my opinion, those were the days… Back then, you had to earn your 'treat'. We sang; we told jokes; we showcased our best dance moves… simply throwing out a hand would have been considered rude and completely unacceptable. Presumably our efforts were less than exciting to those who answered their doors to us, but we were always rewarded kindly with fantastic sweets, candy apples, fruit and monkey nuts by the gallon. I'll never forget the excitement of cracking open that bag of surprises after a successful jaunt around Houston Street, my 'hood', as a child. There was always a house party, where we would 'dook for apples' and someone would swing a treacle tart at you which you had to catch with your mouth, of course the hidden agenda being that after a few impossible efforts your face was more treacle, than skin. I carried my love for Halloween into my adult years and to this day I still make the effort to become someone else on October 31st.
This year was the first in many I decided to go out for Halloween. My friend Susan and I opted for the traditional frightening theme. While I sported a hand crafted little girl ghost costume, my friend was embracing the current vampire trend dressing as a vampire school girl. I couldn't help but take the joke that bit further with my bloody (suggestion of an abused child) make up and decapitated teddy bear…
So we got ready, had a few drinks and took a taxi into Glasgow City Centre; of course not before yelling 'raaaaaaar' and running at the poor unsuspecting driver like a couple of demented ghouls. On the way to the bar to our delight we passed by Alice in Wonderland, who was sitting in a doorway slumped over a pile of her own vomit; We suspect she may have had one too many refreshments at the tea party… It was just then that we realised something was missing, my teddy. In the mad rush to catch the taxi I had left it behind. Without further ado we ran to the nearest newsagent, purchased a £10 bear and began the unforgivable task of hacking off its head, while passers-by watched in horror and my friend announced repeatedly: "Keep walking, nothing to see here" and "She'll sew it back tomorrow!" We waded through the masses of PR girls with free passes to their clubs. We chose a familiar spot, a bar named 'Social'. After a few drinks and many, many strange looks we moved on to a nearby club, 'Light'. We walked in and scanned the room, it was like a sea of suspenders and cleavage. What I couldn't comprehend was the sheer extent of nasty, provocative costumes worn by the women, which unbelievably didn't affect the monotonous 'drop it like it's hot' dance moves. If I saw one naughty nurse; naughty bumble bee; naughty wonder woman I saw a hundred. I had to ask myself, where's the originality?
One other thing I couldn't help but notice was the quite disturbing behaviour of some of the men hiding behind scary masks while they were physically pulling at women to dance with them. It reminded me of an old-fashioned horror film I once saw where the villain was cleverly disguised at a masquerade ball and well, you can imagine the rest… To add to the bizarre list of events there was a man dressed as the Joker dressed as a nurse in Batman who every time we turned around was behind us, 'shuffling'. At first we were mildly impressed with his dance ability until the realisation struck us that he was a one trick pony, not to mention our permanent shadow, it seemed. There were a few hilarious sights among the madness. There was a very tall, very slim Ronald McDonald whose skin-tight banana yellow costume left very little to the imagination. One thing was for sure, I was not going to be in front of him in the bar queue… There was a painfully shy looking pimp and a couple of boys of the ned variety dressed as fairies who appeared to be having their own private rave to a song that was quite apparently, hip hop.  It was undeniably one of the most random nights out to date. It was a frightening evening in more ways than one but it did not however, jeopardise our fun. We had our own weird little party with Derek the headless teddy bear who if I may add, made a fabulous drink holder.
Tags: halloween headless teddy make up teddy bear vampire