It looks like Brendan Rodgers finally has a host of options to play at full-back this season, a position that Liverpool have struggled with in recent years due to the injury prone nature of Jose Enrique and the diabolical performances from last season's loanee Aly Cissokho.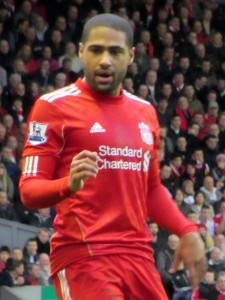 Last season saw Rodgers move young Jon Flanagan to left back for most of the second half of the season, leaving Johnson still as the first choice right back. It has been some years since Johnson delivered a genuinely stellar performance for either Liverpool or England. However, he flew under the radar, remaining immune to criticism from commentators and pundits alike until finally, last season, he started to turn a few heads for the wrong reasons.
It looks like Johnson's time at Anfield is coming to a close; his contract is set to expire in 11 months time. A return to fitness for Jon Flanagan and Jose Enrique, an impressive start for 20 year old Javier Manquillo and the impending arrival of Seville's Alberto Moreno all point to a season of very few appearances for Johnson. Should Rodgers have had such options in the previous season, Johnson would have probably never made the starting XI.
This should come as a relief to Liverpool fans who have become increasingly frustrated with Johnson's poor performances but just where did it all go wrong for the 29 year old? He burst onto the scene at Anfield putting in a string of impressive performances, scoring in his home league debut against Stoke and generally causing havoc for opposing full backs. Johnson's pace, technique and attacking ability were what grabbed the attention of the footballing world. Nobody even looked at the defensive capabilities of the so-called defender.
As his time with Liverpool progressed, his attacking flair somewhat dwindled. However, still popping up with the odd goal or assist, he managed to avoid the glare of major criticism for the most part. It wasn't until around two years ago that people began to realise Johnson had lost it. Despite his many years as a defender, he still hadn't learned to tackle – to this day he puts in very few tackles per game. His passing range is almost non-existent. The easy pass is the option literally every single time for Johnson. He will single handedly tear apart a promising counter attack with his negative playing style. Even with the entire Liverpool midfield and attack ahead of him, he prefers instead to stop all momentum and play either a sideways or backwards ball.
With age, one obviously loses speed. This is the main factor in Johnson's demise. As he now no longer possesses the ability to pick the ball up and run past players, his usefulness in the attacking third has gone. This means people have started looking at his defensive capabilities instead. Unfortunately, Johnson has never possessed the qualities to be a top class defender. In his prime, he was more or less a winger anyway.
So it does look like the time has come for Johnson to gracefully step aside and let the young blood take over as the Liverpool full back force. With Javier Manquillo, Jon Flanagan and Alberto Moreno 20, 21 and 22 years old respectively, it certainly looks as if Brendan Rodgers is preparing for the future and he should be set up for many yeas to come in the left and right back positions.
Johnson can certainly look back on his time with The Reds fondly – his first goal, his last gasp winner against Chelsea and a Capital One Cup victory will all live long in the memory for the English full-back but it is time he and the Merseyside club parted ways and we saw an overdue end to his time at Anfield.
Tags: defence football Glen Johnson Johnson LFC liverpool Premier League