When I first heard about this cafe/eatery/breakfast bar, I was jealous. I was annoyed that I hadn't thought of an idea so simple and so imaginative, that could essentially turn Corn Flakes into coins for the owners. I also thought it was marvellous, inventive and above all, really cool. I couldn't wait for it to open, as Brick Lane is a 30 second walk from my house and it sounded like the perfect area for this kind of venture.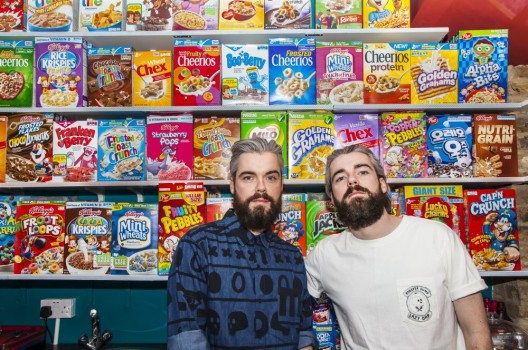 I saw that the cafe, named Cereal Killer (which is not to my taste), had gained national TV coverage and the word had spread across social media. I found that people were condemning the pair who opened the place, calling them selfish and money hungry.
The now viral Channel 4 'interview' has created a wave of damaging abuse directed towards the cafe which I feel is rather unfair. The interviewer asks whether £3 for a bowl of cereal is affordable for local residents of Tower Hamlets, citing that it is 'one of the poorest areas of London'. Firstly, Tower Hamlets is a huge borough, comprising of 27 areas that include Canary Wharf and Spitalfields, with the borough also housing the Tower of London. Starting to sound less poor by the second. There are many different types of people and varying levels of wealth among these citizens, so to say that this cafe has no right to serve £3 bowls of cereal in Tower Hamlets is a sweeping statement.
Second, and most importantly, I do not believe that this cafe was opened for these residents. London is a city that thrives on tourism. The East is becoming more of a tourist town each day as holiday makers aim to find something a little bit removed from the main sights in the centre of the city. E2 and E1 are areas that attract a large number of shoppers and diners, especially on the weekends where there are normally queues for the best cafes.
Sony recently opened a pop-up shop opposite Brick Lane to mark the 20th anniversary of PlayStation. They sold limited edition PlayStation 4's for £399, with most of the customers coming from all over London and the further surrounding counties. I wonder if Channel 4 would ask Sony why they set up shop on Bethnal Green Road? I wonder if everybody in Tower Hamlets would buy a PS4? Similarly, I wonder whether everyone in the borough wants a bowl of cereal.
There is cafe on Bethnal Green Road called Lady Dinah's. It is a niche cafe that has 10 onsite cats that roam around while customers consume high tea and cakes. I have been and it is a novel and lovely atmosphere. But it isn't cheap. Again, for the people out there who are questioning the idea of an expensive bowl of cereal, just take a second to imagine the rental costs on Brick Lane. The road is literally un walkable on Sunday mornings due to human traffic. It is the kind of place that those tourists looking for something special flock to. There are places for locals too, but the idea is commerce, and traders will take commerce in whatever form it comes.
So, I say kudos to the guys selling the cereal. Well done, I hope your business lasts. And I'm sure they won't mind the publicity, it always helps. To those cursing from behind your computer screens at the 'profit hungry' capitalising on 'the poor people of Tower Hamlets', take a trip down there and see just what it's like.
Tags: brick cereal Food killer lane London money tower hamlets