When you want to record your Mac's screen, you'll want a screen recorder that can pull its weight. Nowadays there are several options that are popular in their own right – and if you're wondering which is the best one it would be worth knowing a little bit about each.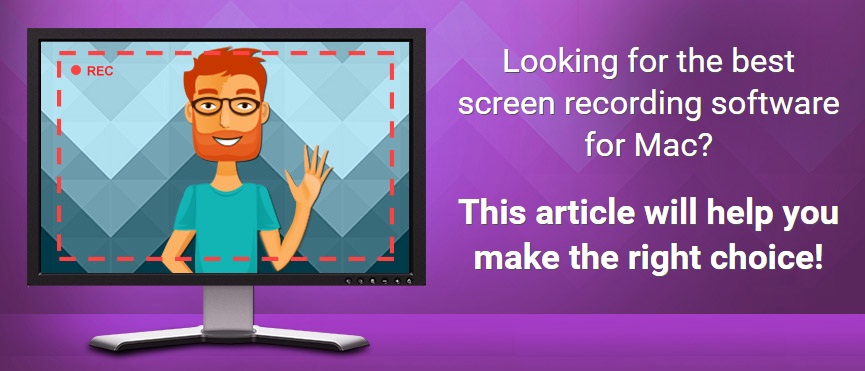 As one of the most popular screen recorders, Camtasia has excellent recording capabilities coupled with video editing tools. While it is great in most regards, its user interface is complicated and it does come at a high price point.
Another strong contender, ScreenFlow is comparable to most as far as recording capabilities and video editing go. However it too suffers from a less than friendly user interface, and a high price point as well.
Technically Snagit is more known as a screenshot software, but it has the capability to record videos too. However its screenshot-centric nature is apparent due to the fact that it has editing tools for screenshots but lacks similar features for videos. In that regard it can't compete that well, though it does have a nice user interface and attractive price point.
With an attractive price, Screenium appears to be a nice screen recorder with video editing features at first glance. Unfortunately it does not have some features that are present in most other screen recorders such as the ability to take screenshots or capture keystrokes. Additionally its user interface is also less than ideal.
Simple, basic and cheap – Screenflick is a solid screen recorder but only has a limited range of editing features. It also does not support screenshots at all. All in all it is a nice budget option, but definitely lags behind other screen recorders.
Movavi Screen Capture Studio for Mac – $49.95
With a highly intuitive interface, and a powerful and feature rich screen recorder and video editor, Movavi Screen Capture Studio for Mac is excellent on many fronts. By being able to go toe-to-toe with any screen recorder out there, the main differentiating factor that puts it over the edge is that it costs less than the others. If anything its one minor drawback is that it can't follow the mouse while recording.
All in all if you're looking for the best screen recorder for Mac, there is no question that Movavi Screen Capture Studio for Mac fits the bill. Its features are comparable to any other software, and its user-friendly nature coupled with its much lower price point make it the clear favorite. In short it will make it easy for you to record videos from your screen and then edit them to a professional standard – while offering you the most bang for your buck too.