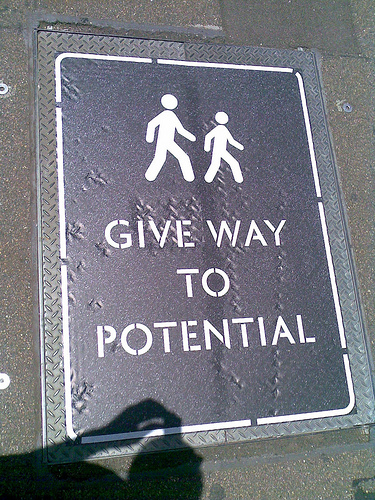 "Look out! Potential!!" (CC BY-SA 2.0) by  M0les 
Life-changing moments are more common than you might imagine. It's just a question of how you think about it.
Every step you take opens up a thousand different potentials. Every stranger you meet carries all the possibilities that human interaction may involve. We are all living life on the edge every minute of every day.
A false step and a slip can have life-changing repercussions – all it takes is a split-second's inattention. It happens all the time. We are all always on the cusp of a life-changing moment.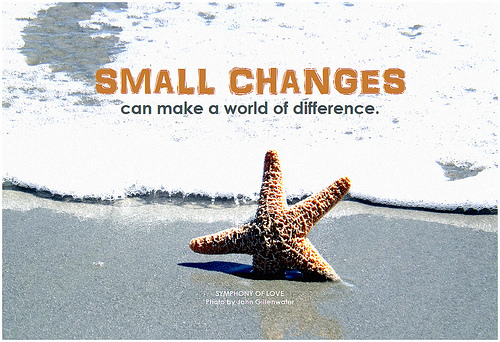 "Symphony of Love Small changes can make" (CC BY-SA 2.0) by  symphony of love 
Life-changing small change
Jack Richardson was down and out and begging for small change in 2013. Surprised when a woman burst into tears because she hadn't the means to help him, Jack gave her 50 pence so that she could power up her electric meter. Their lives were never the same again.
Two years on, and the couple are to marry. And to add an additional feel-good element to the tale, friends and neighbours of the cash-strapped Bristol couple have rallied round to make their wedding day extra special. Their local vicar along with local wine merchants, hairdressers and photographers have all chipped in to give the couple a day they could never have dreamed of. Jack and his bride to be, Toni, have become minor media celebrities, featuring on radio, television and in the national press. From that desperately miserable first meeting they have found happiness together and given a media audience of millions something to feel good about
Striking lucky
Glaswegian mother of three, 49-year-old Grace Walker's life was transformed in the space of a few seconds one ordinary Saturday afternoon in Scotland. Grace was in the habit of buying a weekly scratch card from her local store and could scarcely believe her eyes when she uncovered a winning prize worth an astonishing one million pounds.
Grace and husband William have not gone wild with their new-found wealth. They don't drive and are committed to their local Hamilton neighbourhood. They are not for moving house just for the sake of it. But with a million pounds in the bank they have, at a stroke, been granted the freedom to travel anywhere in the world that takes their fancy. And of course the whole family have been transported into a life where worrying about not having the money to pay the bills is a thing of the past.
For most of us, most of the time, we fail to notice the life-changing potentials all around us. We are not always emotionally honest with strangers, just as we may not always choose to gamble. But for every action that we make – and every one we don't – there are a million potential trajectories that could see our lives veer off into previously unimaginable directions.
Seeing the potential
Being open to those potentials is itself a valuable life skill. If you see everyone you meet as a person with the means to change your life you will be more inclined to treat them with compassion and respect. And that in itself may set off spirals of reciprocal good will and generosity of spirit. If you really do reap what you sow, it only makes sense to live generously.
Lottery wins don't happen for everyone, but that is not to say that there are not life changing potentials that we are all continuously surrounded by.