Aside from the fact that they are all forms of popular entertainment, what do music, film, theatre, painting and offbeat performance art have in common? In short, it's many people who never quite realise their true potential.
Whether it's self-destruction, tragedy, over enthusiast media hype or some other unexplainable force at play, there artists, actors musicians and popular figures who , in some way, never fully filled their celebrity shoes. It doesn't mean they didn't make it at all – it simply means they could have gone further…
Paul Di'anno
Right from the get go, the Iron Maiden lineup was a mish mash of messed up individuals, all hell bent on destroying themselves before making any sort of mark on rock and roll history – but none of them were as messed up as lead singer Paul Di'anno.
Born in London's East End, Paul D'ianno expressed his passion for hard rock by fronting a host of local bands throughout his teens while working as a butcher and a chef.
Eventually, after being introduced to Iron Maiden's founder and bassist, Steve Harris, D'ianno was recruited as the band's singer based on a referral by drummer Doug Sampson. Despite his unpredictability and bad habits, D'ianno offered a unique brand of Punk-like energy to the hard metal outfit, until his antics and attitude eventually became impossible to control.
After a string of backstage altercations and no shows, coupled with perpetual drink and drug binges, Iron Maiden manager Ron Smallwood was forced to fire him from the band.
Iron Maiden went onto become a number one selling stadium band and although Paul D'ianno still makes music, has never quite managed to connect with any real success.
Herbie Flowers
This English bass guitarist and prolific session musician has actually carved out somewhat of an illustrious musical career. As well as boasting a CV of successful stints with rock juggernauts including T Rex, Herbie is actually responsible for one of the most iconic bass lines in the history of popular music – yet only a handful of people actually know who he is.
Back in 1972, Lou Reed recruited Flowers' magical fingers for a handful of tracks on Transformer (an LP that would become his most famous album). During one of these 20 minute sessions, Flowers picked up his double bass and began laying down the sultry sliding bass-line to Take a Walk on The Wildside, a bass-line that in all fairness gave the track its alluring edge. Herbie then double tracked this line with the harmonic offerings of an electric bass to give the track its rich trademark tone.
Herbie was paid a meagre £12 for his efforts; he left the studio and went about his daily business. This single track went on to be one of the most celebrated songs in music history – and made Lou Reed a healthy amount of money – but despite his melodic contributions, Herbie's name was nowhere to be seen (nor his royalties).
Herbie Flowers is a genuine talent who has had a long and happy musical career, but it's fair to say, if he was more widely-recognised for his contributions to popular music, he'd have been a household name. And for that reason, he never quite made it.
Johnny Depp
This may seem completely out of place, especially considering the fact that Johnny Depp is one of the most highly-acclaimed and sought after male actors of his generation. But, entertainment is a broad spectrum.
With lead roles in everything from Ed Wood to The Pirates of the Caribbean, it's fair to say that Mr Depp is one of the most accomplished Hollywood actors in history. One of his other major passions is music, and while he is an incredibly talented guitarist, his crossover from Silver Screen heartthrob to bonafide rock god wasn't quite as successful as it could have been.
As former part owner of LA's infamous Viper Room, Depp has cross paths with many of the world's most iconic rock stars; he's even had the pleasure of jamming with some of them, as well as doing a few studio sessions. One of his most renowned recording efforts is his slide track on Fade In Out – a track from Oasis' 1997 studio album Be Here Now.
Two years before this, Depp became a member of rock supergroup P, where he played alongside The Butthole Surfers' Bill Carter and songwriter Gibby Haynes. Their self-titled album flopped in the Billboard charts and although it was re-released in 2007, it never really made its mark in rock and roll history.
Johnny Depp: one of the greatest screen actors in Hollywood history, yes. Johnny Depp: bonafide rock and roll hall of famer, not quite.
Josephine Clofullia
Born in Switzerland in 1827, Josephine Clofullia was one of the world's earliest notable bearded ladies.
This unique young woman reputedly had a two inch beard at the age of eight years old and it wasn't too long before this facial phenomenon was capitalised upon.
As fame and opportunity beaconed, Clofullia decided to move to the United States with her husband, son and father where she joined the sideshow of the incredibly popular P.T Barnum.
The family toured the US and made quite a name for themselves. Things went smoothly, apart from an incident where Clofullia was taken to court by William Charr, who claimed that she was actually a man posing as a bearded lady. Eventually the case was dismissed – some even thought it might have been an elaborate publicity stunt put together by P.T Barnum.
Although Clofullia did have a fairly hearty brush with fame, and she is still known today, she died without being able to really fulfil her potential. Perhaps if she was born a couple of decades later, she'd have been able to take her talents to the stage, or even write a book of memoirs.
Wes Bentley
Bentley soared onto the big screen as the darkly mysterious Ricky Fitt's in Sam Mendes' hit 1998 suburban flick American Beauty.
His role in American Beauty proved his unique on-screen acting ability and he became flavour of the month, seemingly overnight. The problem with flavours is, sometimes they fade. After his brush with mega success, Bentley starred as the leading man in flop flicks including Soul Survivor and the Four Feathers; films that added absolutely no value to his dwindling career.
After a long battle with drug addiction, Bentley began to claw his way back onto the scene with an acclaimed stint in off-Broadway production Venus in Furs, as well as a few TV sitcom appearances, a fairly decent role in The Hunger Games and a part in American Horror Story, but nothing has managed to get him back to the heights of his Ricky Fitts Days.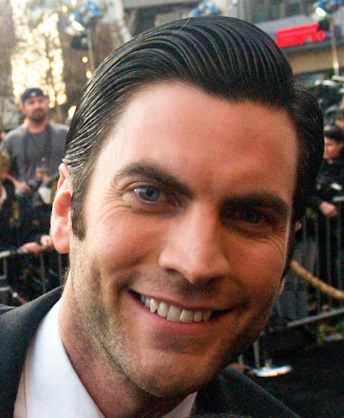 Shayne Ward
The X Factor (both US and British) has a perpetual habit of churning semi-talented wannabe pop stars through their melody mill, only to leave them stranded in the middle of a street with a dwindling pay cheque and a bindle sack, often a mere few months after their 'Winner's Single' has faded into black.
Some artists, such as Nicki Minaj and One Direction have made a huge success from appearing on the X Factor, but there have been many casualties, and in terms of those contestants not living up to hype, UK's Shayne Ward is a true example.
Born in 1984, Manchester's Shayne showed signs of musical talent at an early age – which eventually led him to audition to the 2005 edition of the UK X Factor. Shayne won over fans and judges alike,  became 2005's King of the X Factor and was subsequently signed to Simon Cowell's Syco record label. As the only ever UK contestant to release his own original song as a Winner's Single, Shayne showed real creative promise, and his 2006 debut album (his follow up album also performed well) topped the UK and Irish billboard charts.
For personal reasons, Shayne took a three year hiatus and in 2010 released his third album Obsession which failed to make any sort of impact – eventually Shayne was dropped from Syco. Since then he has been out of the limelight and has just released an album without record company backing, and although this seems to be doing well, it doesn't quite live up to his 2005 and 2006 glory.
Shayne Ward is talented; his career is by no means over, but considering he was billed to be the next big thing, he never did quite fill his musical shoes.
22-20s
There are so many bands out there that never quite get end up getting the acclaim, or respect they deserve – the 22-20s is one of those bands.
Hailing from Lincolnshire (UK), this foot stomping four piece blues rock band came in to commercial prominence (mainly in the UK, Europe and Japan) with the release of their debut single Devil in Me, which was featured as the theme tune in a high budget car advert (one of their other early songs also appeared in Guy Ritchie's hit gangster flick Rock 'n' Rolla). Prior to its release, the band signed a publishing deal with EMI, and flew over to The States to meet various record execs in what was described as the "A&R scramble of the century."
Soon after this, the band offered a steadily growing fan base their self-titled debut album which performed very well in the mainstream and alternative charts.
The 20-20s went on to do a string of tours, shows and festival slots around the world until they had to cancel a few hotly anticipated gigs, apparently due to illness. Shortly afterwards, singer Martin Trimble announced the band's split due to ongoing creative differences, and went on to pursue a solo career. The band did reform for a short period in 2010, but they never managed to reclaim their former glory.
Although they left a significant mark on alternative popular music, they never quite managed to dominate the world, dispute their potential.
Bon Scott
Scottish-born Australian singer and lyricist Bon Scott was known as a rock 'n' roll wild man. He spent his first five years in the Scottish Highlands before moving to the sunny Southern Hemisphere with his family – they settled in the vibrant city of Melbourne.
A keen musician, Scott first enjoyed his taste of live rock 'n' roll performance in 1964 when he joined a local band called The Spektors, as drummer and occasional front man. After departing from The Spektors, he joined various other bands including The Valentine's and Adelaide based Prog Rock unit, The Fraternity.
By then, Bon Scott had well and truly honed his skills – and in 1974 his was recruited as lead singer by a little known band called AC/DC, to replace former front man, Dave Evans. It wasn't long before the band began to pick up some serious momentum with the release of debut their LP High Voltage. Their second, offering, TNT, was such a success, it began to be distributed internationally which propelled AC/DC into overseas fame.
Sadly, Bon Scott was found dead on 15 February 1980 after a night of heavy boozing in a London club called The Music Machine (now known as KOKO).
AC/DC went on to become one the world's biggest rock powerhouses, selling millions of records worldwide, and although the band are still going strong today, Bon Scott never managed to make it with them. He had a lot more creative energy to give, but alas, true fame and fortune was never meant to be.
Stuart Sutcliffe
As another Scottish-born rock and roller, it only seems appropriate to move from Bon Scott to Stuart Sutcliffe. Although he was born in Edinburgh (in 1940), Sutcliffe grew up in Merseyside where he attended Prescott Grammar School, followed by the Liverpool College of Arts – the place where he met a young John Lennon.
The two bonded over their love for visual art, the guitar – and because of the fact they were both big Teddy Boys. During his time at Art College Stuart lived at a flat in Liverpool's Percy Street; John eventually moved into the flat in 1960 and they used to paint the walls yellow and black for fun.
Eventually Sutcliffe's painting talents paid off and he got given £65 for one of his pieces. With this £65, he bought his first ever bass guitar – a Hofner. After some persuasion from, John, Stuart learned how to play basic 12 bar basslines and joined The Quarrymen alongside John, Paul McCartney and George Harrison.
This electrifying four piece – of course – went on to become The Beatles. It wasn't long before they started attracting attention and headed for Hamburg with drummer Pete Best to showcase their talents to a keen German audience.
After a short stint in The Beatles Sutcliffe decided to leave the band. He enrolled at the Hamburg College of Art to study painting, and started a new life with his fiancée Astrid Kirchherr. The local police discovered that himself (as well as The Beatles) didn't have proper work permits; the band were deported in 1960 and Sutcliffe went into hiding with Astrid until 1961, before returning to Liverpool.
Shortly after his return to Liverpool, Stuart Sutcliffe began to experience severely debilitating headaches. The doctors couldn't figure out what was wrong with him. In 1962, he tragically died of cerebral paralysis, aged just 22.
He wasn't much of a virtuoso as a musician, but he was a celebrity in the making – and given the time, his art and his status as an icon of popular culture would have surely blossomed.
Vladimir Kozlov
WWE is a sports entertainment juggernaut which is showing no signs of slowing down. Many professional wrestlers, The Rock, HHH and The Undertaker, to name a few, have been household names for decades – but much like any form of performance art, there are those who don't quite make the grade.
Vladimir Kozlov made his triumphant WWE debut as a monster heel who would make his entrance without any music and a single spotlight, which followed him all the way to the ring. His raw, no frills persona and tremendous wrestling talent very quickly made him one of the top players in WWE's primetime show Smack Down.
This hot new status led him to take on wrestling giants including The Undertaker and even fight in one of WWE's pay-per-view events – but this wasn't to last.
It seems WWE CEO Vince McMahon didn't see longevity in his stage persona and despite his talent, he was demoted to small time bouts, dry storylines and placed into a comedy tag team with wrestling novelty act, Santino.
Kozlov turned up to work whenever required and embraced his newfound jumping jester role as much as he could, but no one could take him seriously.
Given the chance Kozlov would have become a household name, but unfortunately, now he's just another roster filler.
Tags: MoonProject Music pop culture TV